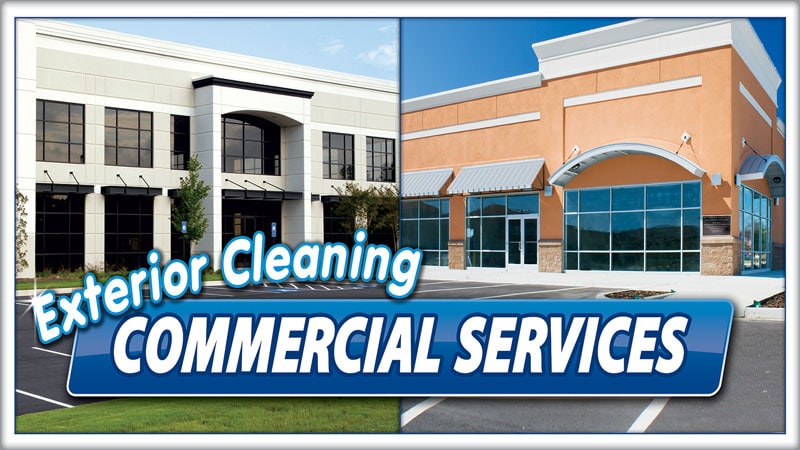 Commercial Pressure Cleaning Done Right
A clean building is the best way to make a good first impression with clients and guests. Extra Mile's commercial pressure washing service in the Martinsburg, WV area is a great way to keep a building looking new and inviting. The cleaning techs use hot water to melt away grease, gum, grime and other unwanted elements for that "just-scrubbed look."
Exterior wall and roof surfaces often benefit from a process called SoftWash. Softwash involves treating the area with a blend of specialty detergents that will loosen the dirt and grime. That is followed by a soft, low-pressure rinse to complete the cleaning process.
Your exterior commercial power washing can often be completed effectively and efficiently so as to minimize or eliminate any inconvenience to your daily routine. And, will be done right by our highly trained techs using the latest cleaning equipment.
Why Hot Water to Clean?
If you were cleaning a load of dirty dishes, you wouldn't use cold water. The same principle applies with your property's concrete surfaces. They need a customized solution for the degree of dirt and wear and tear that they receive – and the best solution is in our hot water pressure washing service.
We are proud to offer commercial pressure washing processes that are effective in cleaning a wide variety of contaminates, including fluids found in automobiles. Chewing gum often gets left behind where it can diminish the appearance of your property and our hot water process takes care of that in short order also.
General dirt and a soiled appearance are bad for business and no one is harder on them or more effective in removing those items than Extra Mile Power Washing of Martinsburg.
We Offer a Solution for All Surfaces
Every concrete surface and the soil that they accumulate is different. Our pressure washing processes and staff stand ready to bring the best result to your property through an experienced and specialized approach.
We provide hot water commercial pressure washing solutions in West Virginia's Pandhandle for:
Dumpster pad cleaning
Industrial pressure washing
Commercial pressure cleaning
De-greasing and washing of heavy equipment
Driveway cleaning
Sidewalk cleaning
Parking lot cleaning
Drive thru cleaning
When grease or gum are detracting from your walks, driveways and parking areas, we are here to pull out all the stops to remove the damage and help your property put its best foot forward.
Get service you can rely on in and around Martinsburg – and exterior building cleaning that matters – from your local professionals at Extra Mile Power Washing, LLC
Customer Testimonial
"Dustin is the most knowledgeable, trusting, reliable contractor. He gave a reasonable quote, showed up as scheduled and did a beautiful job on our exterior home. Just what we needed moving into the spring this year!! You won't be disappointed with his work!! Thanks Dustin!!" – Laurie W.