Make sure your deck is ready for great outdoor events with family and friends.
October is here and it's the time for outdoor gatherings on your deck. Warm days and cool evenings create the perfect atmosphere in the West Virginia Panhandle for hosting friends. The smell of cookouts and the glow of patio lights will fill the air for the next two months. It's what many people long for following the hot days of summer. This idea sounds great to most homeowners. However, a dirty deck or patio could dampen that excitement very quickly.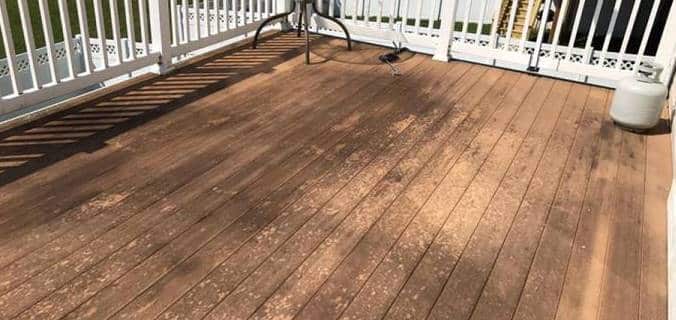 Many people don't even look at their deck closely until this time of year, only to have to scramble to make it ready for others to see.
Does your deck or patio have ugly stains hiding the wood or composite decking's beauty? These dark areas can be more than the difference between a beautiful or unsightly outdoor living space. The real problem may not present itself for many years. The cause of those stains can lead to costly damage, because they are the result grime, mildew and algae, which can break down the deck materials.
The good news is that the cleaning professionals at Extra Mile Powerwashing in Middleway, WV are Jefferson County's deck cleaning experts.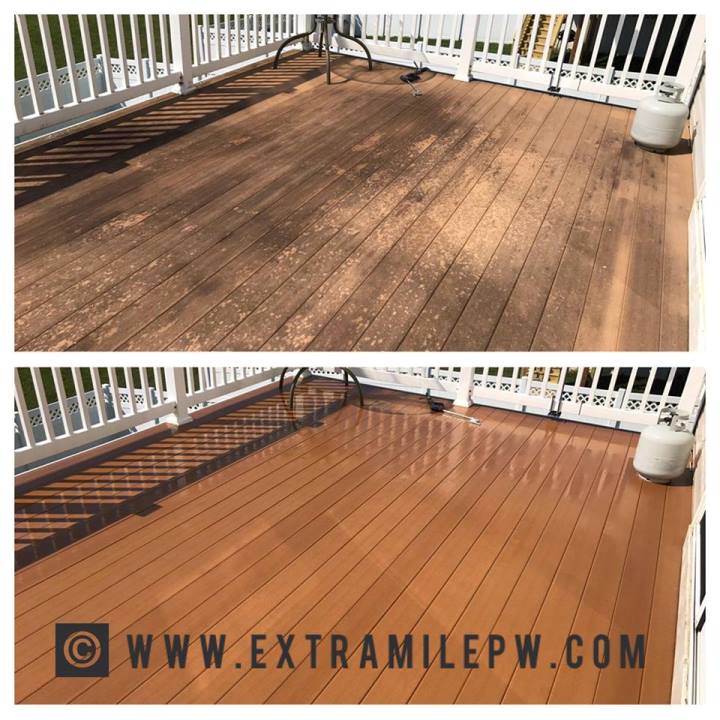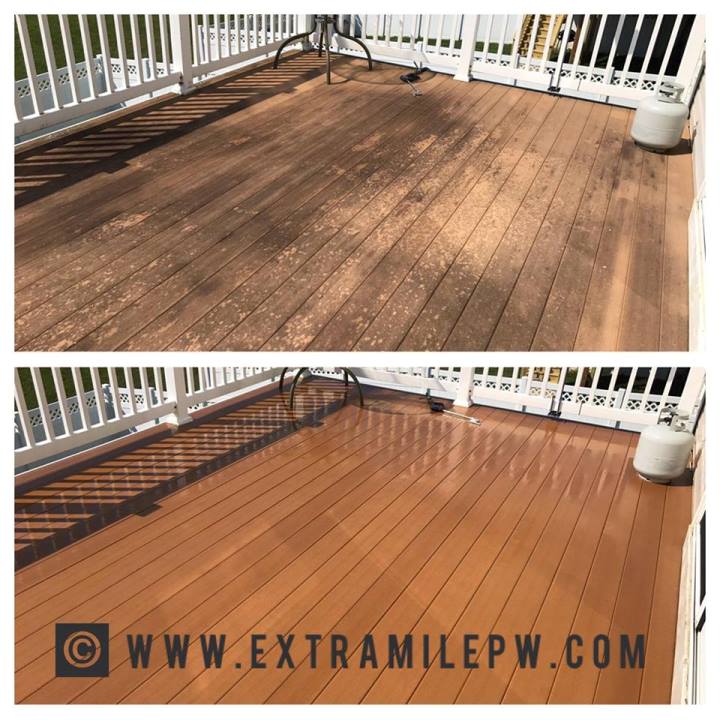 Extra Mile Cleans Your Deck Safely
The pressure washing experts at Extra Mile have years of experience of properly cleaning decks, patios, hardscapes and other exterior surfaces. Their techs use the softwash cleaning technique. Softwash is a combination of gentle water pressure and environmentally-safe cleaning agents. This approach is the best for thoroughly cleaning wood, composite decks or patio materials in the safest way possible. Amateur pressure washers are likely to take the "power wash" approach.
Amateurs often think they can simply "blast away" grime on patio blocks and concrete. That's a bad approach, because block can break and concrete can scar under intense water pressure. This damage is costly to a homeowner, especially if the "cheaper option" is not bonded and insured. The Extra Mile techs are trained to clean the right way with the right products. 
Extra Mile's cleaning experts will also assess your other building materials in need of cleaning. The build up of grime can shorten the life of siding, fences, outbuildings, etc…. 
Contact Extra Mile to Pressure Wash Your Deck
Contact Extra Mile's Middleway, WV office to schedule your deck cleaning or other pressure washing service. Click here to contact them online or call them at 304.904.0500. Use dustin@extramilepw.com to email for an appointment or to ask questions about their services.
The Extra Mile PowerWashing techs will be traveling the Panhandle area this fall. They serve the greater Middleway area, including: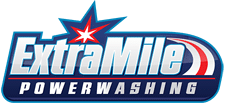 Bunker Hill WV 25413 | Inwood WV 25428 | Kearneysville WV 25429 | Kearneysville WV 25430 | Shepherdstown WV 25443 | Glengary WV 25420 | Charles Town WV 25414 | Ranson WV 25414 | Martinsburg WV 25401 | Martinsburg WV 25402 | Martinsburg WV 25403 | Martinsburg WV 25404 | Falling Waters WV 25419 | Harpers Ferry WV 25425 | Hedgesville WV 25427 | Winchester VA 22601 | Winchester VA 22602 | Winchester VA 22603 | Winchester VA 22604 | Cross Junction VA 22625 | Clear Brook VA 22624