Pressure Washing washes away elements that make people sick and deteriorate your home's structure.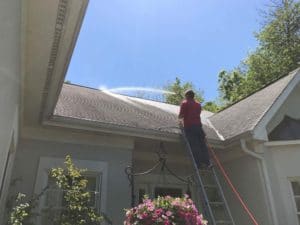 The Extra Mile pressure washing experts know three great reasons to hire them.
The top reason is to clean the entire outside of your home, making it look brand new again. Now some people might argue that it's a waste of money, but don't stop reading. If it were just about looks, we probably couldn't defend our point, but it is definitely more than aesthetics. When a house looks clean, it is clean. This means that algae, fungi, mildew and other unwanted allergens that build up on siding, gutters, roofs, fences and concrete are more than just dirt. These are elements that can adversely affect your family's health. Also, dirty gutters can cause water to back up and then overflow down exterior walls. Since water can find penetrate any surface, this water often gets inside walls, making it the perfect place for mold to grow.
The second reason to hire our techs is linked to the first reason. Those "stains" and ugly spots not only have health risks, but are slowly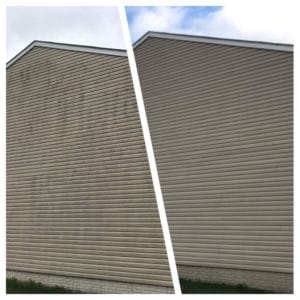 breaking down the building materials that make up your home. Shingles are the biggest loser in this war against the natural elements. Without proper maintenance, several years of shingle life can be lost. Gutters filled with water that does not flow freely can lead to rust. Siding that isn't kept clean can end up permanently marked and can be weakened by the build up of mold and mildew. And, if your patio is a light shade of green, you should consider cleaning it before spending too much time having family gatherings under the evening sky.
The third reason you want Extra Mile Power Washing to clean your house from top to bottom is the use of the softwash technique. Softwash is the combination of gentle, environmentally-friendly detergents and low water pressure to remove the natural elements that can do harm over time. Inexperienced pressure wash technicians often try and blast away the dirt and grime, sometimes damaging surfaces. Once you find out those techs don't have the proper insurance to cover such damage, it's too late.
Extra Mile Power Washing techs service the greater Martinsburg and Inwood, WV areas. If you would like an estimate for restoring your home back to its original shine and healthy atmosphere, contact us here or call our office at  304.904.0500.