Extra Mile Powerwash is your trusted local contractor for all pressure washing needs in Martinsburg in the Eastern Panhandle of West Virginia and surrounding area.
With our professional equipment and annual continuing education efforts, you can be assured of a professional job completed in a timely manner.
Our pressure washers in Martinsburg specialize in customer service and look forward to creating another customer for life.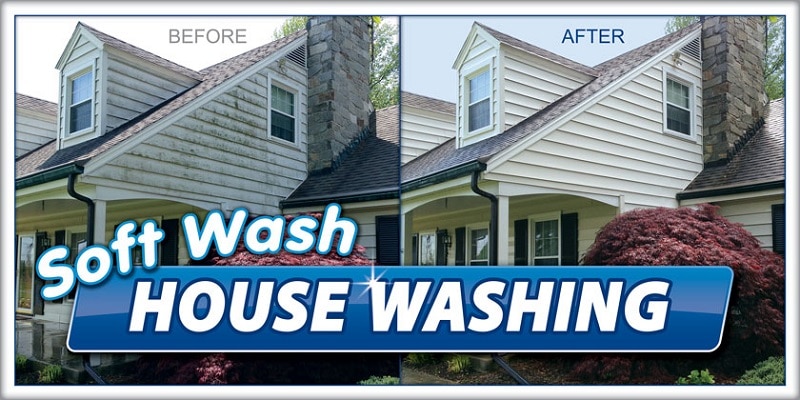 Using the latest soft washing technology and quality specialized cleaning solutions, we will gently deep clean your home's exterior without the use of high pressure water, which can potentially damage your siding and other surfaces. Our pressure washing services in Martinsburg use just the right amount of pressure to safely and efficiently wash your home!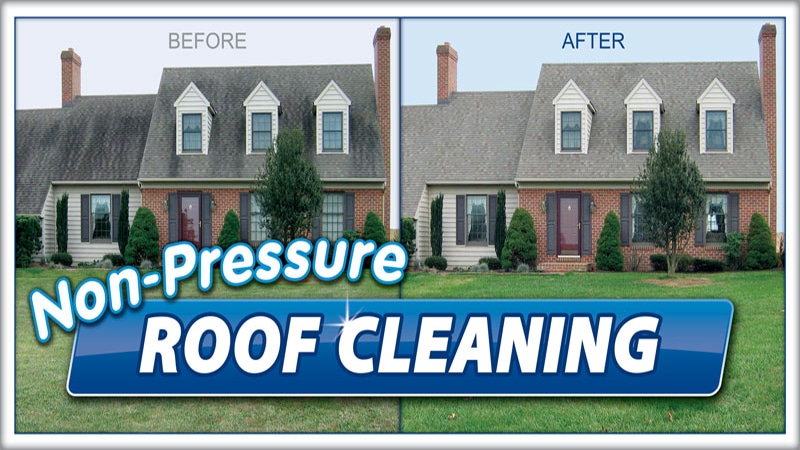 Extra Mile Power Washing is the number one choice for protecting your roof from the damaging bacteria (Gloeocapsa Magma) that feast on your roof's shingles and cause those ugly black streaks. We are the Eastern Panhandle's #1 choice for protecting your roof. Also, consider our gutter cleaning services in Martinsburg and the surrounding areas to complete your roof's pressure washing experience.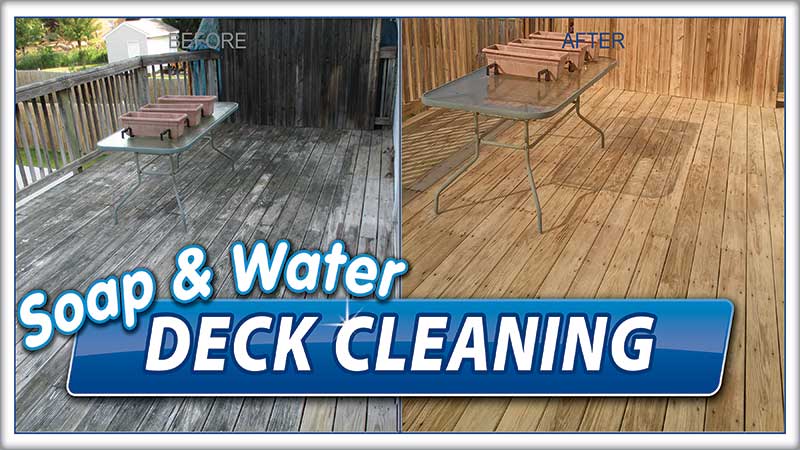 Extra Mile Power Washing is the top choice for wooden fence and deck cleaning services or restorations in Martinsburg. Our cleaning process is gentle and damage-free, and leaves your valuable decking looking clean and beautiful.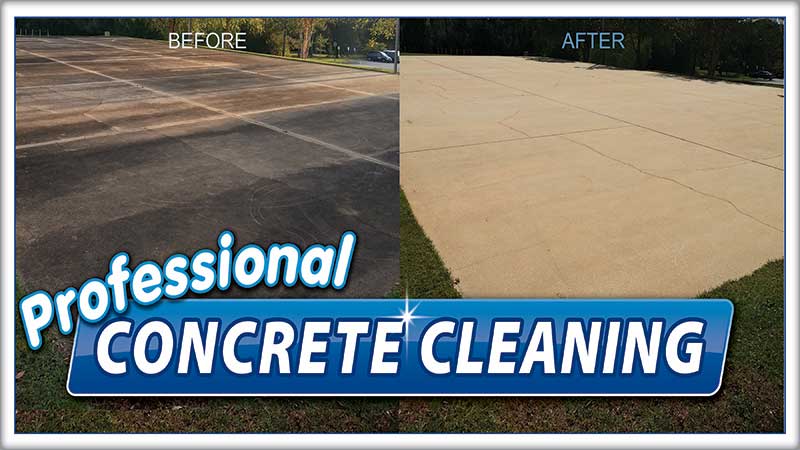 Extra Mile Power Washing is the Eastern Panhandle's top choice for removing dirt and grime, grease, rust and other ugly stains from your home's driveway, patio, or sidewalk.
 Services- What We Do
We Clean, Pressure Wash, Restore & Maintain: Buildings I Home Exteriors | Vinyl Siding | Brick | Dryvit | Stucco | Stone | Roofs | Decks | Concrete Cleaning | Aluminum Siding | Soffit | Fascia | Gutter & Downspout | Mold Removal | Restaurants | Drive Thru's | Dumpster Pads | Parking areas | Driveways | Parking Lots | Warehouses | Loading Docks | New Construction | Heavy Equipment | Industrial Equipment | Factories | Condominiums | Townhouses | Apartments | Common Areas | Pool Houses | Clubhouses
The best reference for any business is a repeat customer , and we just used Extra Mile & Dustin again, ( July 2022), for another job on the exterior of our home. As usual the work was done in an outstanding manner. Thanks again. Excellent service from start to finish. Quick ( and reasonable) quote, scheduling & arrival to perform work. Dustin did a very thorough/professional job-no cleanup needed at all. Thanks
R. Andrews Lang
2022-07-22
Dustin did a great job cleaning the gutters at my 1890 house with a challenging layout, and the detached garage. He was on time and professional, and he patiently answered the many gutter and power washing questions that I had as a new owner of this unusual home. Also, big props to him for the work that he does helping people after natural disasters!
Maureen Cohen Harrington
2021-12-30
Dustin did an excellent job cleaning the siding, gutters, and soffit. He was punctual, pleasant, and professional. I would recommend his work without reservation.
I normally don't write reviews on companies but I was really impressed with the level of service I received from Extra Mile Power Washing LLC that i had to share. Dustin was such a pleasure to work with. He is one of the nicest people i have met .I needed help with something not on my order and he didn't hesitate to offer to assist me. I had been looking for a company to power wash my home for a while when I came across Extra Mile. I received a quote super fast and they got me in the very next day. The job was perfect and very professional. I cant say enough good things about the level of service i received .I will definitely be calling on them again.
This was a hassle free and easy process. Dustin arrived on time, asked if I had any questions, and did a very thorough job. We have dogs that love to jump on the doors and windows and the whole house was muddy. I dont think this had been done in the homes 14 years and there was also some areas with moss or mold that are completely gone now. It looks like brand new siding and windows now. Could not be happier with the quality of the work done and professionalism of Dustin. Thank you. We will absolutely be using this service again next time needed. Allan Crim II
Extra Mile Power Washing did a great job pressure washing our house. We connected with Dustin through Hurricane Michael, us because we lived through it in Bay County FL and Dustin because he volunteered with Mercy Chefs after the storm to help out the area, which was greatly appreciated. We would highly recommend Dustin and Extra Mile Pressure Washing! He did a wonderful job!
Kimberly Burgess
2020-05-23
We highly recommend Extra Mile Power Washing! Dustin came out last Friday and did an outstanding job power washing our 2 story home. Our house is clean again and looks beautiful!! He and his office manager are professional and courteous! We called the office and had an estimate and an appointment within an hour. So glad that we found them and will definitely be using them in the future!
I first contacted Extra Mile Power Washing through their website portal to request an estimate. I was pleased to get a call the next day and Dustin came out to estimate a house washing and a wooden fence restoration job. I have to say Dustin is very knowledgeable about his business and put to rest all concerns my wife and I had on what turned out to be a very large project. Dustin was on time, very professional, and did a fantastic job restoring a ten year old fence. It really looks brand new! The process they use to power wash your house is very safe and effective. We are very pleased with the result. This company is a pleasure to work with, the customer service is excellent. Thank you Dustin.
We go the Extra Mile with every job.
Are you ready to experience the Extra Mile clean? Click here to request your Free Estimate.
Our Service Area
Bunker Hill WV 25413 | Inwood WV 25428 | Kearneysville WV 25429 | Kearneysville WV 25430 | Shepherdstown WV 25443 | Glengary WV 25420 | Charles Town WV 25414 | Ranson WV 25414 | Martinsburg WV 25401 | Martinsburg WV 25402 | Martinsburg WV 25403 | Martinsburg WV 25404 | Falling Waters WV 25419 | Harpers Ferry WV 25425 | Hedgesville WV 25427 | Winchester VA 22601 | Winchester VA 22602 | Winchester VA 22603 | Winchester VA 22604 | Cross Junction VA 22625 | Clear Brook VA 22624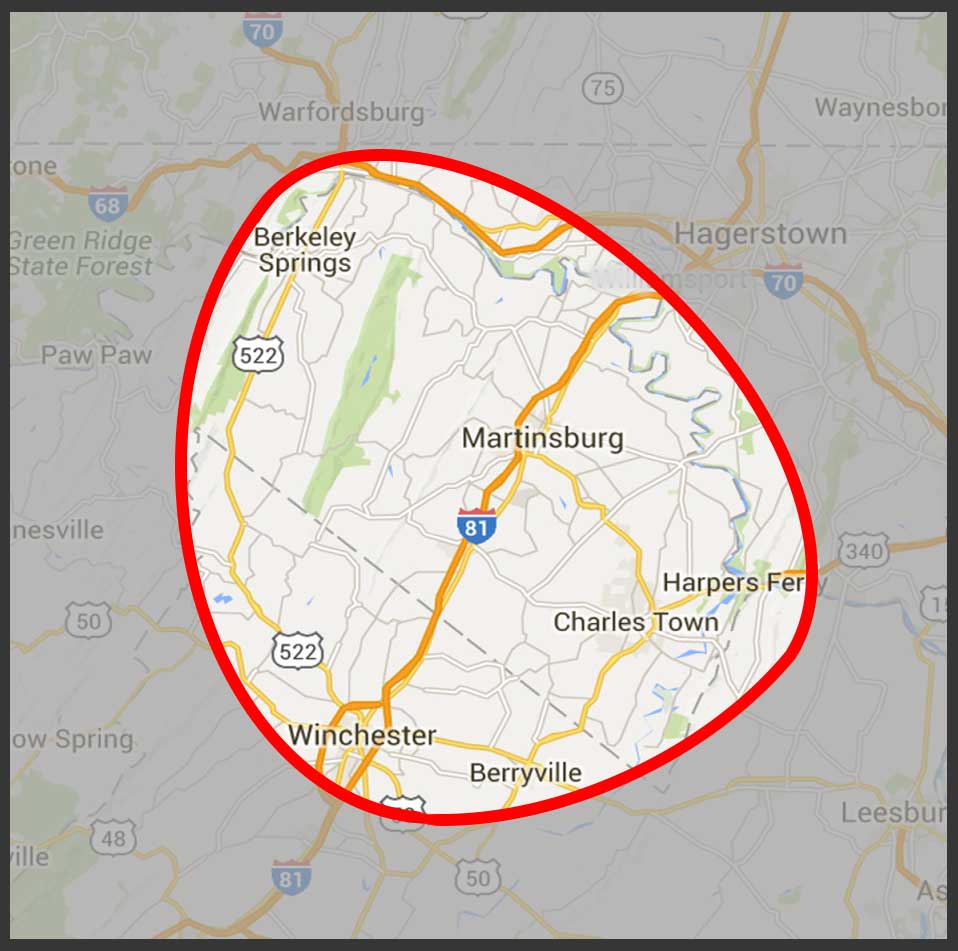 I recently had Dustin clean my gutters—-He did an excellent job and I was extremely impressed with his professionalism and his work ethic. He responded to my request online that very same day, was right on time, and the price for what he did was very fair. I plan to use him again for some of the other services he offers. 
I highly recommend Extra Mile Power Washing. They did a superb job power washing my house. My experience showed them to be professional and courteous.
Thank you Dustin for your professionalism! The entire process from quote, agreement, scheduling, cleaning, and payment were hassle free. I would highly recommend Extra Mile Power Washing. Not only was my house cleaned perfectly, they were great to work with. He did so well, my neighbor even got their home cleaned same day.
Read more reviews on Facebook HERE.