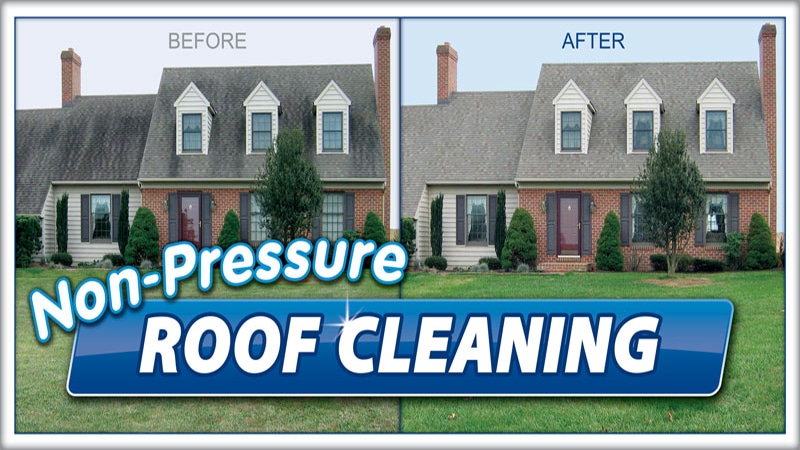 Extra Mile Powerwashing is the top choice for cleaning AND protecting your roof.
Rid your roof of the damaging bacteria (called Gloeocapsa Magma) that feed on your roof's shingles and cause those ugly black streaks. Combining the latest non-pressure roof cleaning technology and quality, specialized cleaning solutions, we can gently remove algae, dirt, bird droppings, and other pollutants while helping protect and extend the life of your roof.
At Extra Mile Powerwashing, our non-pressure, soft wash roof cleaning in Martinsburg gets your roof clean without damaging it. High-pressure water can blast away granules or shingles, so trust your roof cleaning in Martinsburg to the professionals. Protecting your roof as we clean it is our top priority.
Roof streak removal is one of our specialties. Not only are these streak ugly, the combination or grime and damaging elements can shorten the life of your shingles. Your roof will be cleaned using a detergent based process and low pressure. Same day results are sure to please and may even make the neighbors jealous If you are seeing any signs that you are in need of roof cleaning in or around Martinsburg, contact Extra Mile Power Washing today!.
Our roof cleaning process in Martinsburg and the surrounding areas is environmentally friendly and kind to the pets and landscaping as well, AND our non-Pressure detergent based roof cleaning is covered by our 100% satisfaction guarantee.
Our Pressure Washing Services and Service Area
We use our softwash technique for our roof cleaning services in Martinsburg and the surrounding areas — gentle water pressure and environmentally-friendly detergents — to clean gutters, siding, roofs, sidewalks, fences and just about every type of surface found at homes and businesses in the region. We also offer concrete cleaning, deck cleaning, and house washing services.
If you would like to help cleaning up the outside of your home, then schedule a free estimate with us at Extra Mile Powerwashing today. Our professional technicians are the roof cleaning experts in Martinsburg and the following service areas:
Bunker Hill WV 25413 | Inwood WV 25428 | Kearneysville WV 25429 | Kearneysville WV 25430 | Shepherdstown WV 25443 | Glengary WV 25420 | Charles Town WV 25414 | Ranson WV 25414 | Martinsburg WV 25401 | Martinsburg WV 25402 | Martinsburg WV 25403 | Martinsburg WV 25404 | Falling Waters WV 25419 | Harpers Ferry WV 25425 | Hedgesville WV 25427 | Winchester VA 22601 | Winchester VA 22602 | Winchester VA 22603 | Winchester VA 22604 | Cross Junction VA 22625 | Clear Brook VA 22624 
To schedule a power washing estimate, call our office at 304-904-0500 or contact us here.
Customer Testimonial
"Dustin is the most knowledgeable, trusting, reliable contractor. He gave a reasonable quote, showed up as scheduled and did a beautiful job on our exterior home. Just what we needed moving into the spring this year!! You won't be disappointed with his work!! Thanks Dustin!!" – Laurie W. 
To read more reviews from satisfied pressure washing customers, click here. Click on this link to read our pressure washing blog.