Contact Extra Mile to clean your deck in time for your October parties.
Does your deck or patio have ugly black and green stains? Do you plan to host guests this month to enjoy a nice afternoon and evening on that ugly deck or patio?
The cleaning professionals at Extra Mile Power Washing in Bunker Hill, WV can turn that possible embarrassment into a prideful moment if you call soon to schedule a, Extra Mile deck cleaning. They are the West Virginia Panhandle's experts for cleaning wood decks, composite decks and hardscape patios.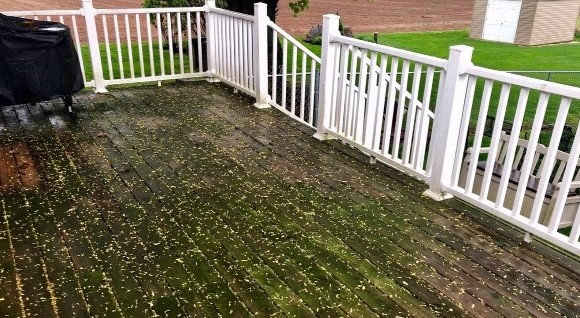 And while everyone will agree the stains mentioned above are ugly, the real problem will come a few years in the future. Those ugly stains are the build up of grime and other harmful elements. Such natural contaminants need to be pressure washed away — by a professional who knows how to do it safely — sooner rather than later. It's better to pay a little now than a lot later!
Extra Mile has the Right Solution for Safe Deck Cleaning
The Extra Mile Power Washing cleaning experts have years of training in the proper cleaning of deck and patio materials. The techs will also give you a proper assessment of your other building materials — siding, gutters, fencing, shingles, driveways, walkways, etc… — that may be in danger of a shortened life due to stains that can cause long-term damage.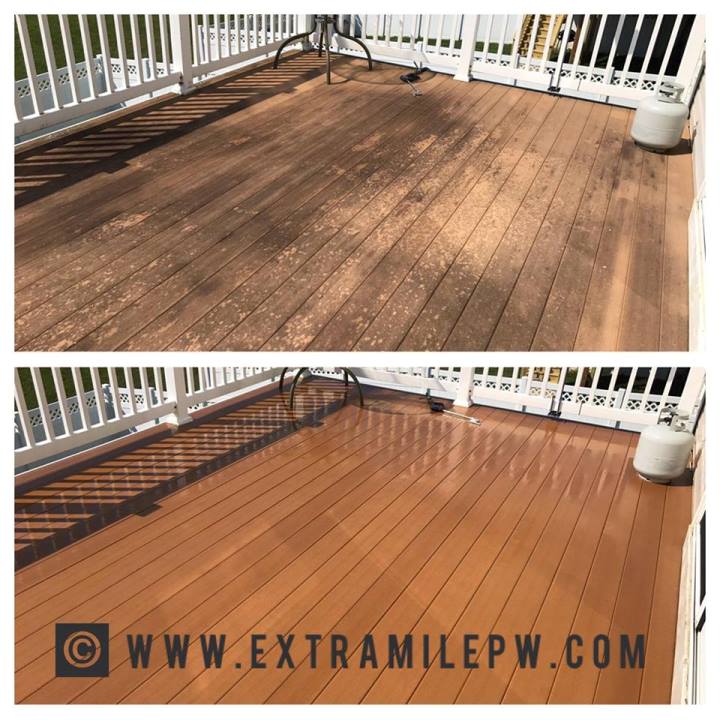 Special Celebrations in October
October is a great month for fall gatherings and special celebrations. Of course the images of jack-o-lanterns and trick-or-treaters dominate the latter half of the month. But before Halloween closes out the month, here is the list of other October 2023 celebrations:
Adopt a Shelter Dog Month
American Pharmacist Month
Breast Cancer Awareness Month
Clergy Appreciation Month
Domestic Violence Awareness Month
Sarcastic Month (Like anyone needs this!)
The second week of October is Fire Prevention Week. Click here for a video that teaches children about fire safety.
Contact Extra Mile for Deck Cleaning and any Pressure Washing Needs
Contact Extra Mile's Bunker Hill, WV office today for a pressure washing appointment. Click here to contact Extra Mile's staff online. They can also be reached by calling 304.904.0500 or emailing dustin@extramilepw.com.
The Extra Mile cleaning techs are the local experts in roof cleaning, house washing, gutter cleaning, and concrete and deck cleaning. They use the softwash cleaning technique to make sure all surfaces are cleaned safely and effectively.